Cedar Ridge in the News
Caregiver Receives High-Powered Gift at Cedar Ridge Health and Rehab Center
Contest Winner Gets Keys to a 2023 Chevy Blazer at Skilled Nursing Facility
June 20, 2023
Cedar Ridge Health and Rehab Center, in Lebanon, Ill., was the site of a major employee appreciation presentation on June 19. A lucky staff member of the skilled nursing facility won a car for having the winning entry in a contest where staff told heartfelt stories of who they "lean on."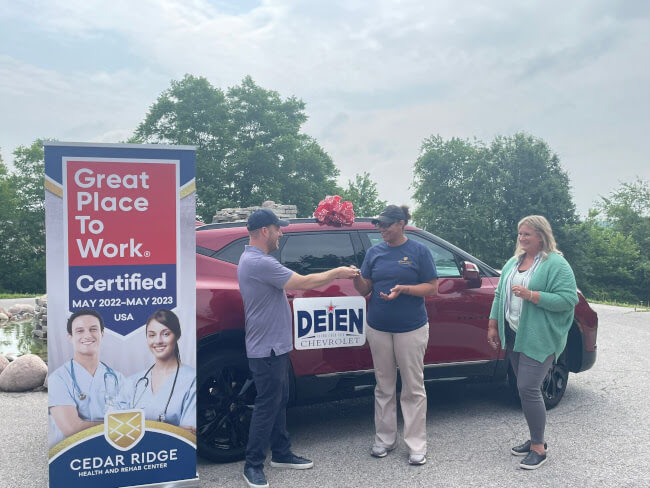 Caregiving often requires teamwork, and Crest Healthcare Consulting - the organization that provides operational support for Cedar Ridge - wanted to recognize its employees in a very notable way. Many staff members have worked with each other for years, and Crest created a contest where staff could acknowledge their colleagues and others that lend them daily support.
Crest Healthcare named the contest "Lean On Me" and it was open to all 1,000-plus employees at the 13 skilled nursing facilities Crest works with in Central and Southern Illinois. Staff were asked to submit written answers to the question: "Who do you lean on, and who leans on you?" The winning entry was chosen on June 14.
On Monday, June 19, the winner - KeeKee Davis - was given the keys to a 2023 Chevrolet Blazer SUV at Cedar Ridge. It was presented to her by Crest President Shully Lichtman.
Winner is a Long-Time Caregiver
Davis was recently promoted to Human Resources Director at Cedar Ridge. She is a long-time caregiver at the facility, having been a Certified Nursing Assistant (CNA) at Cedar Ridge for the past seven years. CNAs are very hands-on with residents and patients, regularly helping them with day-to-day needs.
"Numerous employee recognition efforts have been held at all Crest facilities over the years," said Crest's Lichtman. "It is important to show our caregivers and support staff members that we don't take their hard work and dedication for granted."
This year's theme, said Lichtman, acknowledges the fact that "everyone, at some point in their life or career, has needed someone to lean on. All of us have someone - whether one of our residents or a coworker or a family member - who leans on us."
"Our employee appreciation is an ongoing activity that the facility always incorporates, however the car giveaway was an over-the-top gesture," said Morgan Mulvaney, CEO/administrator of Cedar Ridge. "We've worked hard to build strong relationships with our employees and we're so happy they feel the same way. In fact, our employees voted us as a 'Great Place to Work.' I'm so happy KeeKee won - she's a great colleague and very deserving."
The Winner's Entry
The contest was open to all full-time and part-time employees of Crest facilities. Davis will receive a 36-month car lease, paid for by Crest Healthcare, or a $15,000 cash-out option - whichever is the winner's choice.
In Davis' entry, about "Who do you lean on, and who leans on you?" she noted:
"I worked so hard as a Certified Nursing Assistant, caring and helping those that can't do for themselves. I did it with no problems; even on our bad days, we still made it work. I got an unexpected promotion to Human Resources and I couldn't be happier with my new position. I lean on my staff and they lean on me, too. Not just because I handle the money, but because I care. They know they can ask me for help at any time no matter what it is. And yes, I will still get on the floor as a Certified Nursing Assistant: no questions asked!!!!!"
About Cedar Ridge Health and Rehab Center Cedar Ridge Health and Rehab Center is a 115-bed skilled nursing facility in Lebanon, Ill., providing long-term care, short-term care, rehabilitation, occupational therapy, physical therapy, rehab-to-home, speech therapy, hospice care and respite care. The center is currently accepting new admissions for short-term rehabilitation and long-term care. For further information, please contact (618) 537-6165 or visit the Cedar Ridge website at www.cedarridgerehab.com.